If you would like any additional information on our upcoming foals or would like to do a contract for one of the foals in-utero please feel free to contact us at (715)674-2287 or info@whitebisonfarm.com!
My Sweet Teagan
My Sweet Teagan – GV0290F1 & A00000187 & GHA00746
Proven producer of Show foals!!!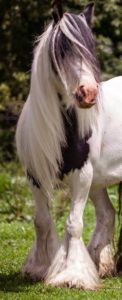 My Sweet Teagan is a perfect example of the sweet temperament, gentle attitude, and relaxed manner that these Gypsy Vanner's portray. Conformation is key in the gypsy horse breed and Teagan has it all: a beautiful head that leads into a perfect neck and shoulders, not to mention her butt. She has a mane that reaches well past her knees, a tail that hits the ground, and magnificent feathering. Teagan is heterozygous for both the tobiano and the dark gene, allowing her to have foals with diverse coloring and patterns. Teagan loves to trail ride, is fantastic with all ages of riders, has no problem with water crossing, trailering, or anything that you will see on a trail. She has been one of our main trail riding horses for many years now and has never given us anything but joy!
Teagan is triple registered with the Gypsy Horse Registry of America A00000187, with the Gypsy Vanner Horse Society GV02090F1 and the Gypsy Horse Association GHA00746!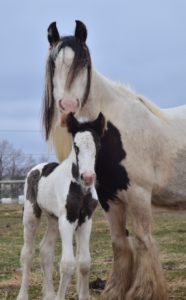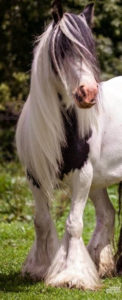 My Sweet Teagan (DOB: 5/18/2005)
Sire: North Hollow Baker (Sire: Foundation & Dam: Candy)
Dam: North Hollow Heidi (Sire: Sids Good Stallion & Dam: Foundation)
Genetic Tests
Tobiano: T/n
Agouti: a/a
Black/Red Factor: E/e
Cream: n/n
Sabino: n/n
Frame Overo: n/n
PSSM: n/n
Teagan's 2013 foal WBF Sir Royal's Sweet Cedric has delighted us tremendously by winning first in his class at the 2014 Gypsy World Show and in 2016 he became a National Champion!
Teagan is exposed to WHR Silky Boy Jr. (AKA Tareck) for a spring/summer 2024 foal. The foal will be negative for PSSM1 and will be able to be double registered with the GVHS and the GHA.
Teagan is available for $18,000 and is worth every penny and then some!
WR Esmeralda's Clover – GV01271F1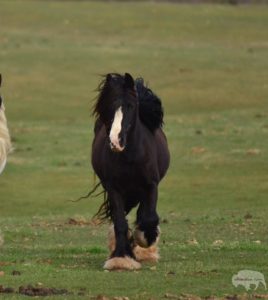 Clover joined our family in January, 2014 and we have loved every minute of her time with us. She is a joy to be around and has the Perfect personality! She enjoys riding with both alone on the trail as well as with other horses. Nothing every fazes her and she just has the same relaxed pace regardless of what is going on around her. She is great with myself as well as children and novice adults. Clover produces beautiful babies with her personality and temperament.
Clover is the daughter of The Gypsy King and has carried on his amazing conformation.
Clover is double registered with both the GVHS and the GHA. Like all of our horses, Clover is negative for PSSM1.
Clover is bred for a spring 2024 foal to WHR Silky Boy Jr. (Tareck) and if her foal is anything like her previous foals, she is sure to produce a gorgeous baby! Clover is available for $19,000
WR Esmeralda's Clover (DOB: April 30, 2007)
Sire: The Gypsy King
Dam: Esmeralda
Genetic Tests:
Black/Red Factor – E/e
Agouti – a/a
Tobiano – tt
PSSM – Negative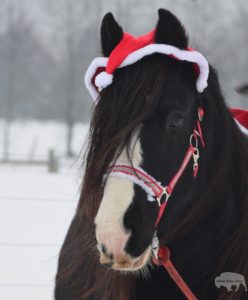 Available Foals
WBF Freedom for the Irish King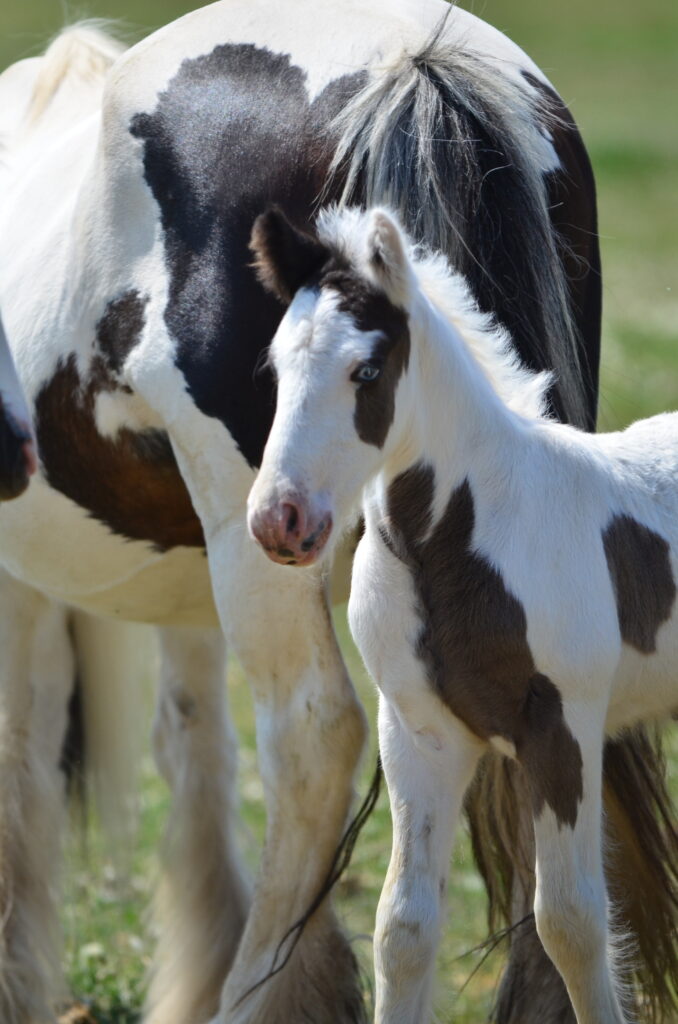 WBF Freedom for the Irish King (aka Dom) was born on May 31, 2023. His mom tried to sneak his birth in during the dead of the night, but alas – we saw her! Dom was imprinted and is worked with daily with all things we expect from our young horses as they grow and mature. He will learn most of the ground training exercises by the time he is ready for his new home which will help make his transition easier for him as well as his new family.
Dom has blue eyes also this year as we seem to have a theme going! He is a bundle of joy in a small package. Not only is he on the shorter side of the foals we have ever had, he is extremely compact and absolutely drop dead gorgeous! We expect him to mature to about 14.0hh
Like all of our horses, Dom is negative for PSSM1 and is Registered with the GVHS.
His fun loving nature is going to make him a favorite with any family that he chooses! His conformation is fantastic and he is being offered as either a colt for $9000 or as a gelding for $7000.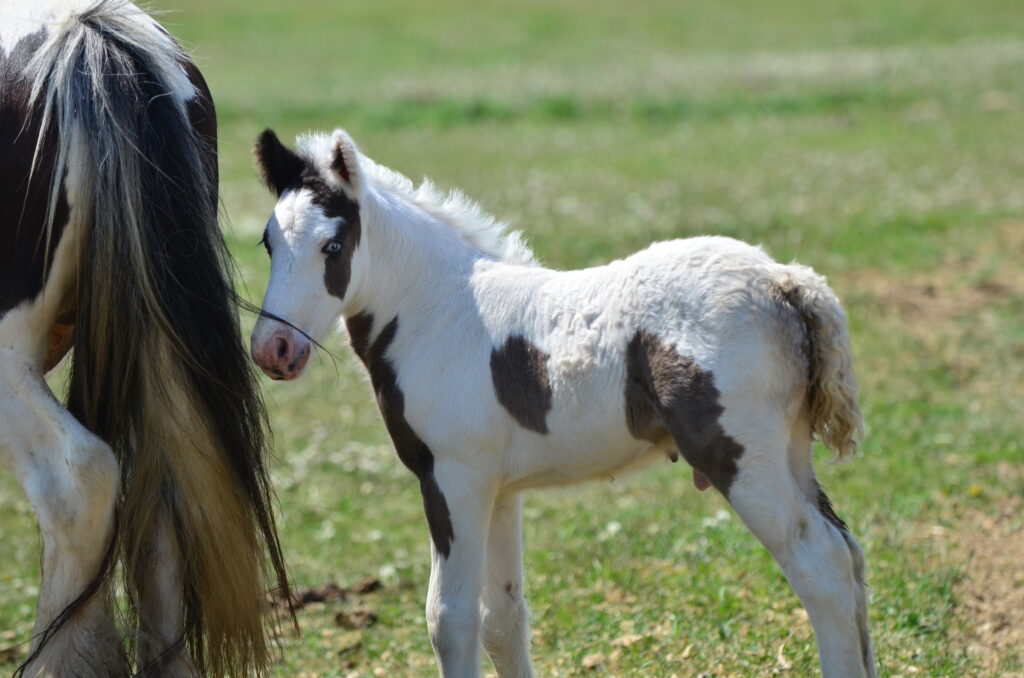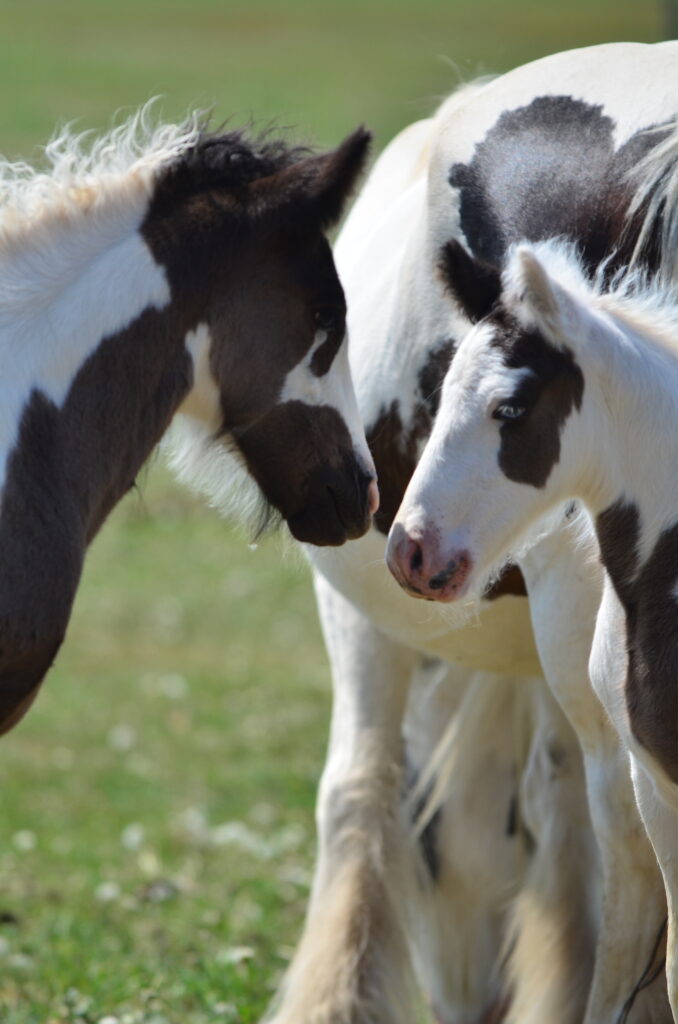 The following foals have found their forever homes: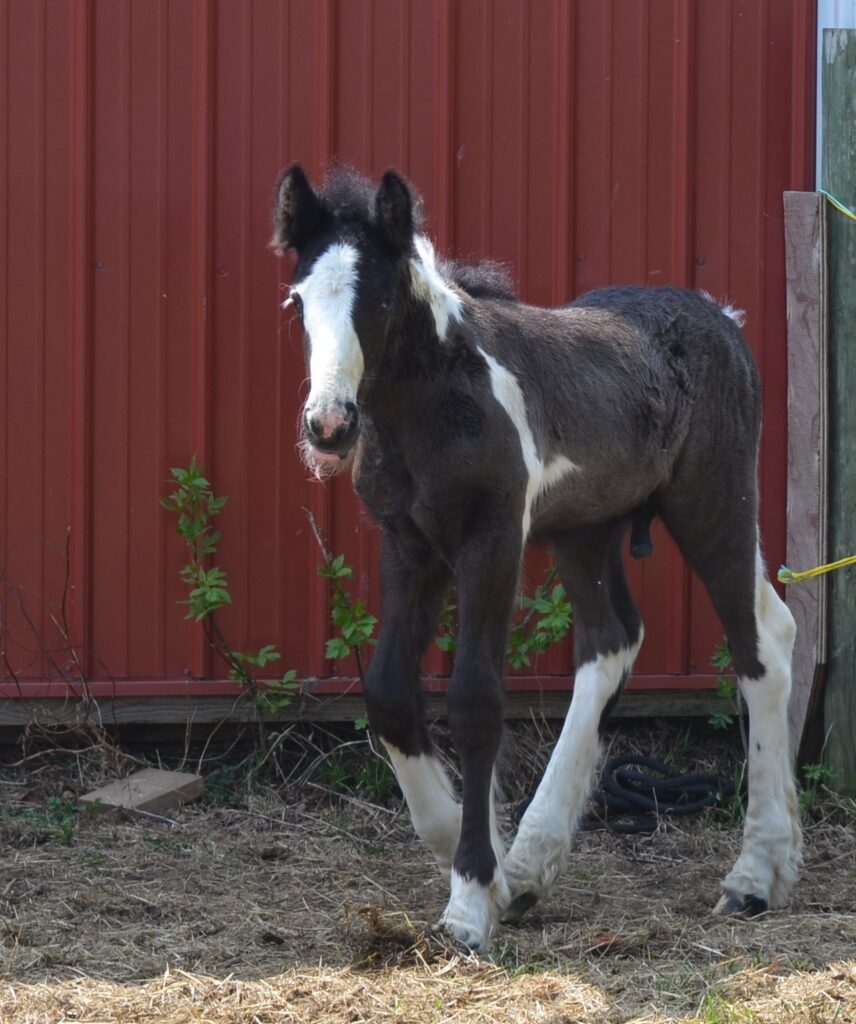 WBF Kings Runyon Ransom (aka Ru) (Born: 5/5/23)
Runyon means "Son of a Champion" and fits this young man perfectly! Ru will be moving out west once he is old enough and we are very excited for both Ru and his new family!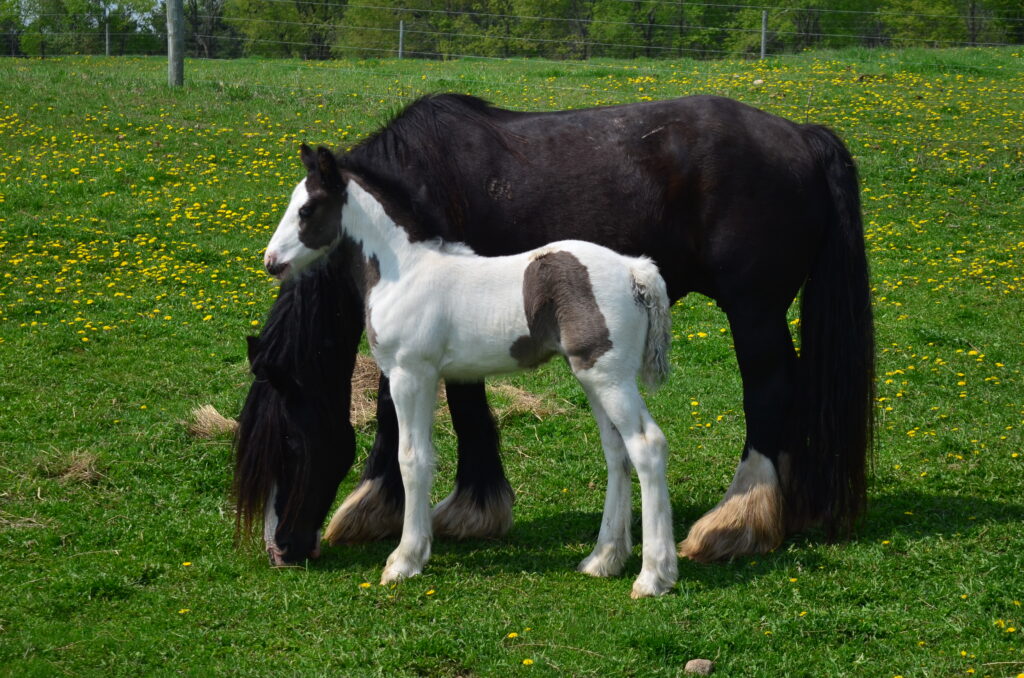 WBF Midnight Gypsy Luna (aka Luna) (Born: 5/10/23)
Luna with the bright blue eyes that make your heart melt has already found her Forever home and will be sharing it with her sister, Stella, who was born this year as well as an older sister. They will be moving East!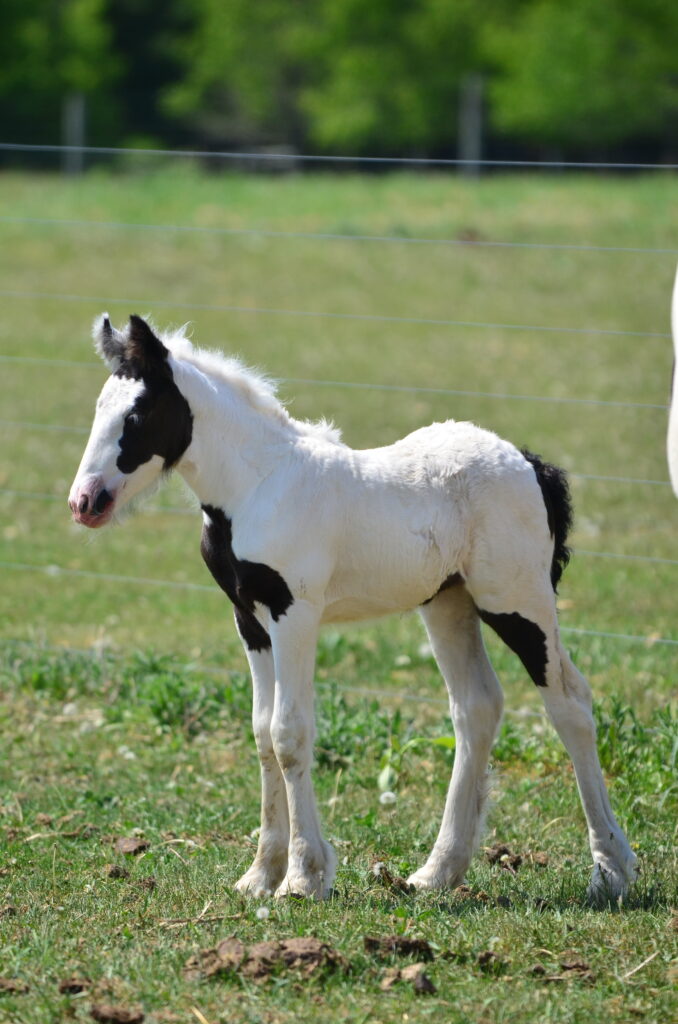 WBF Silky Sweet Stella (aka Stella) (Born: June 4, 2023)
Stella is already a sweetheart who we know is going to excel at everything she does. She will move with her sister, Luna to the East Coast this fall.
WBF The Mighty King's Brogdan (aka Bo) (Born: May 14th, 2023.
Bo has a fantastic and inquisitive nature. He loves to learn and likes to make sure I haven't forgotten anything each day. The name Brogdan meaning knowledgable and inventive, fits him very well. Bo is moving to Kentucky to live with his brother, Griffin.
2024 in the Making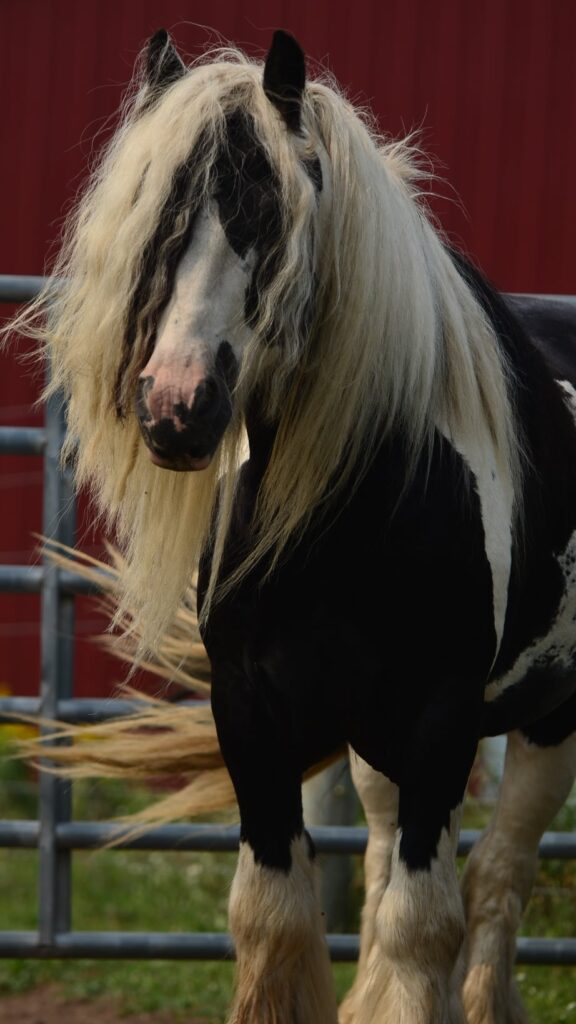 Having a name that depicts who the horse is and what kind of character they have is extremely important for us at White Bison Farm. Time, Love, and Laughter goes into each and every name and most of the time, the names fit perfectly!
We understand the importance of training right from the beginning, so we imprint all of our foals at birth. They are worked with continually using natural horsemanship methods and each and every horse that leaves our farm has a good understanding of all of the ground exercises as well as being desensitized to every and anything we can think of.
All of our horses are negative for PSSM and they are all registered with the GVHS. All of the foals are sired by WHR Silky Boy Jr. (aka Tareck)! Tareck has been the main man on our farm for many years now and always produces quality in terms of conformation, personality, and intelligence! He is homozygous for both the dark and the tobiano gene, so we know we are getting amazing color also. Seeing the foals for the first time is always an adventure in color and pattern!
The mares who will be having foals this coming year are: Ailish, Crystal, Teagan, Clover, and Irish. All of them will be arriving in the months of June & July and we can't wait to see what gorgeous and amazing foals we get next year!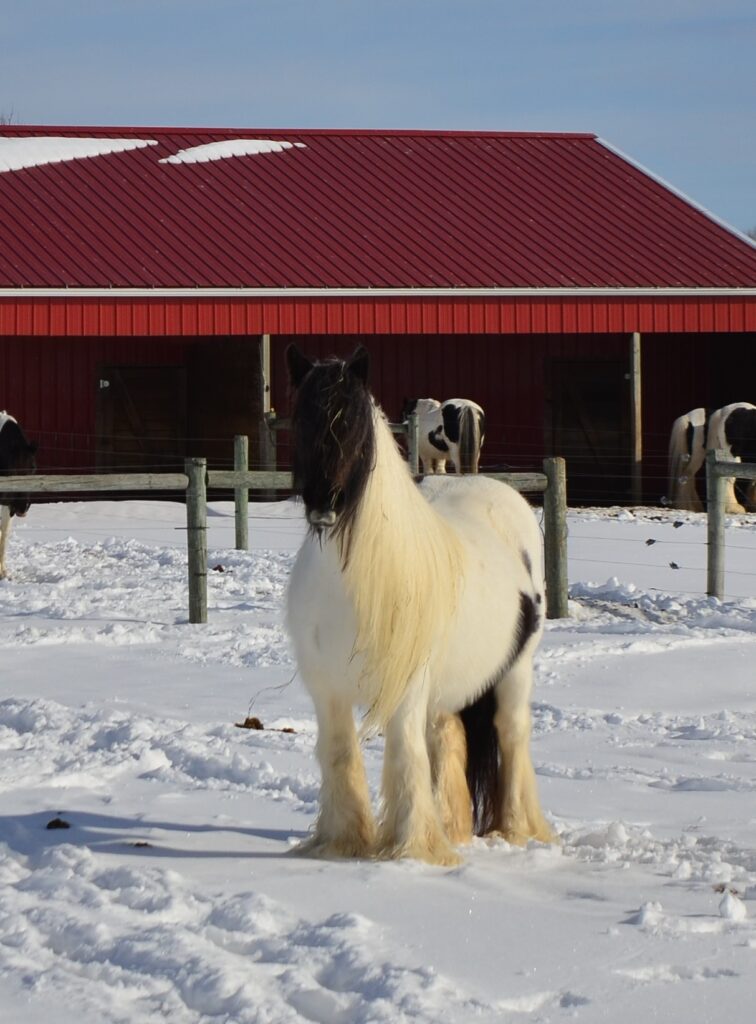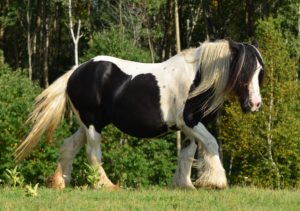 All but one of our 2023 foals have found new homes!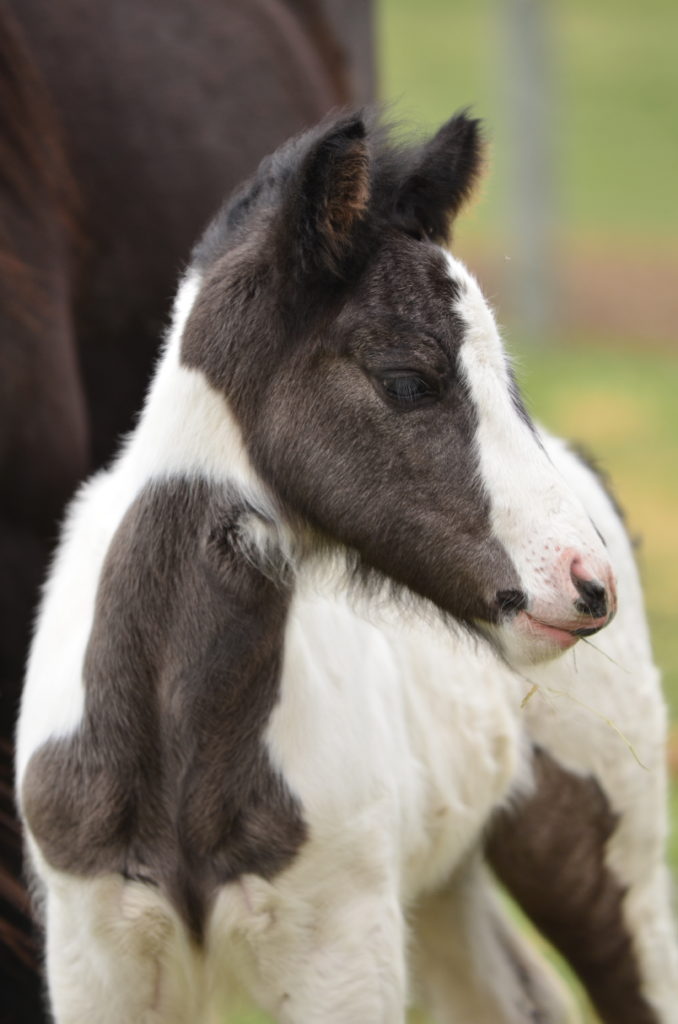 Having the horse of your dreams is now a reality. Many hours each day are spent working with our horses to ensure they learn all of the beginning ground work exercises. We are very apt at coming up with new and entertaining ways to practice desensitizing and want our horses to understand that most things in life are not scary. Imprint training is done with all of our foals and is extremely important in starting the foals off right.