WBF Crystal King's Limerick – GV05980
This adorable young lady arrived on June 1st, 2018 at 9:35pm! She was imprinted and is being worked with using natural horsemanship methods just like we do with all of the foals that are born at White Bison Farm! We named her Limerick and she is a complete sweetheart! After her first evening alone with her mom I came back out in the morning and she was already whinnying to me!
Imprint training is key to having foals have a great start in life!
Limerick is for sale for $6000!
For additional information, please visit our website at www.whitebisonfarm.com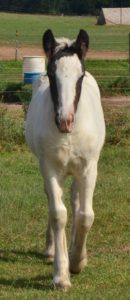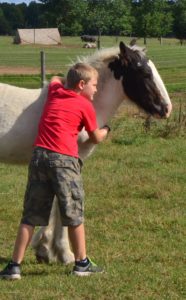 2019 Foals Due this Spring!
We have four foals due this spring! All of the foals are sired by our gorgeous stallion, WHR Silky Boy Jr. (aka Tareck). The mares who are bred to Tareck are The Irish Black Faced Mare (Irish's baby is under contract at this time), My Sweet Teagan, Ailish of the High Kings, and Magic Crystal Ball. The foals from Teagan, Ailish, and Crystal are all for sale in-utero for $8000 each.
If you would like any additional information on our upcoming foals or would like to do a contract for one of the foals in-utero we will be happy to discuss that with you.