Gypsy Vanner Horses
The Gypsy Vanner Horse is a new and rare breed here in the U.S., but for the Gypsies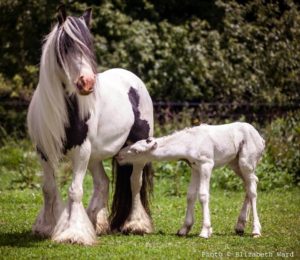 of Ireland this is the ideal horse.  The Gypsy people have selectively bred these horses for many years to pull wagons and carry their children as they travel.
The Gypsy Vanner Horse was first brought to the United States by Dennis and Cindy Thompson.  In 1996 the Gypsy Vanner Horse Society was started and along with it the breed standard was set.
Gypsy Vanner's are thought to be descended from a combination of Shires, Clydesdales, Friesians, and Dale Ponies.  They are a beautiful horse that stands out due to their long flowing manes and tails, as well as the "feathers" on their legs.  There are four colors know as the breed standard:  Piebald(black & white), Skewbald(red or brown & white), Blagdon(solid color with splashes of white), and Odd Color(any other color).  They have a broad chest, heavy hips, and a short back.  The typical Gypsy Vanner measures between 14 – 17 hands high.  Most importantly though is their generally docile and gentle attitudes.  They are known for their sweet and loving nature.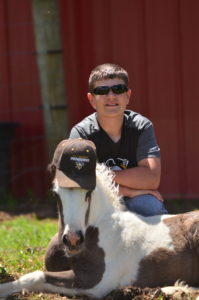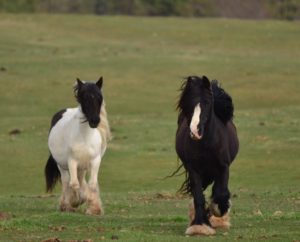 The first time I worked with a Gypsy Horse I fell completely in love and given the chance I know you will too!
The goal here at White Bison Farm is to deliver  "true to breed" foals that have been imprinted at birth and worked with on a daily basis.  The foals will be started in their training using the Clinton Anderson Method of horse training.  Foals will be ready to leave when they are weaned at about 4 – 6 months of age.  By the time they leave our home we want them well on their way to becoming "productive horses", meaning they will have a good background into ground work, spooky objects, trailering, tying, leading, and will be able to have a vet check and farrier work without any mishap.  We believe there is a perfect horse out there for almost everyone, let us see if your perfect horse is a Gypsy Vanner.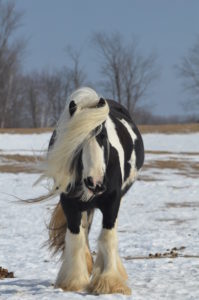 Payment plans are available for all Gypsy Vanner Horses.  Please feel free to contact us with any questions regarding the payment plans, our horses, or the breed in general.  We LOVE to talk about horses!
* All of our Gypsy Horses have been tested and are negative for PSSM *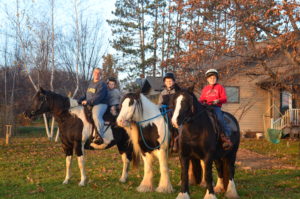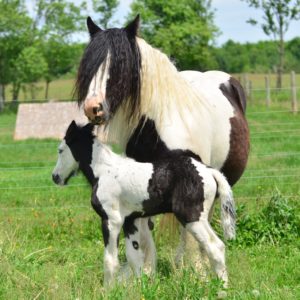 ---
WHR Silky Boy Jr.  – GV02247F1 & GHA00367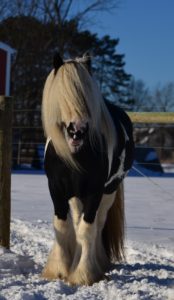 The man on the block!!  Silky Boy Jr. is not only a perfect example of the Gypsy breed, but he also has the lineage to back him up.  His sire is the world re-known" Silky Boy" out of "Lenny's Horse" and his dam is "Beauty" a mare from the great Tom Price with lineage back to The Lion King, Sid's Good Pony, and Nobby.
Both his sire and dam are known for their conformation, wonderful disposition, and feathers galore and have been featured on multiple magazine covers over the years.
Silky Boy Jr. is already proving that he is going to follow in their footsteps.  His conformation is outstanding with the perfect "gypsy" butt, a magnificent neck and shoulders, and just the most perfect "gypsy" head.  Not to mention his fantastic feathering and wonderful mane and tail.
We call him Tareck meaning "he who navigates successfully through life".  He is registered with the GVHS (GV02247F1) and the GHA (GHA00367)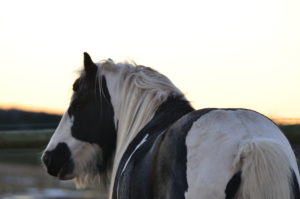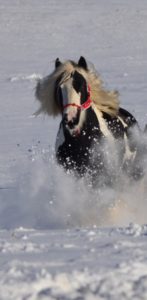 WHR Silky Boy Jr. (8/7/09)
Sire:  Silky Boy (Sire:Lenny's Horse & Dam:Dulux Horse Daughter)
Dam:  Beauty(Sire:Lion Kings Wisdom & Dam:Meeka)
Genetic Tests
Tobiano: T/T
Black/Red Factor:  E/E
Agouti:  a/a
PSSM: n/n
---
KF Ailish of the High Kings WW  *  GV01225F1 & GHA00745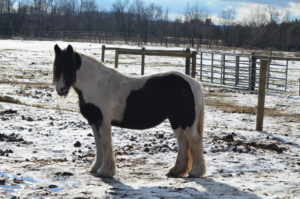 Ailish is registered with the GVHS and the GHA.  She has some of the best bloodlines available with both The Lion King and The Gypsy King in her lineage.  Ailish is a complete sweetheart and easily wins over anyone she meets.  She is eager to please and wants nothing more then to hang out with you and have your attention.   Ailish has done many amazing things since joining our family and is a true "family horse"!  She has given riding lessons, been shown in the fair with our son and young niece, takes all of us (from the very young to the very old) on trail rides, and is loved and appreciated every day!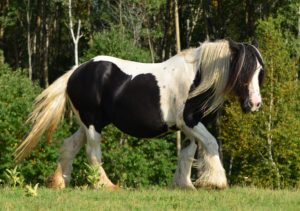 Ailish is one of our top riding mares – she started riding at two years old and is an absolute dream.  She loves to go out and "explore" and true to the Gypsy form – she is always calm, relaxed, and attentive!  We couldn't have asked for a better mare to start our breeding program and she is never leaving our family!
Ailish is everything we could hope for and we are blessed to have her!!!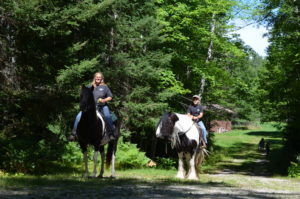 KF Ailish of the High Kings WW
Sire:  D'Jango Jazz LK(Sire: The Lion King & Dam: Foundation Mare)
Dam: Kings Kaulo Ratti(Sire: The Gypsy King & Dam: Mary)
Genetic Tests
Tobiano:  T/T
Agouti:  a/a
Black/Red Factor:  E/E
PSSM:  n/n
---
My Sweet Teagan  – GV0290F1 & A00000187
Proven producer of Show foals!!!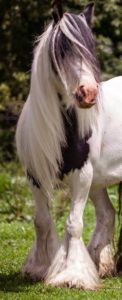 My Sweet Teagan is another example of the sweet temperment, gentle attitude, and relaxed manner that these Gypsy Vanner's portray.  Conformation is key in the gypsy horse breed and Teagan has it all:  a beautiful head that leads into a perfect neck and shoulders, not to mention her butt.  She has a mane that reachs well past her knees, a tail that hits the ground, and magnificent feathering.  Teagan has a completely different set of bloodlines then our lovely Ailish.  Teagan carries the bloodlines of Sids Good Stallion.  Along with the different bloodlines, Teagan is heterozygous for both the tobiano and the dark gene, allowing her to have foals with  diverse coloring and patterns.
Teagan is triple registered with the Gypsy Horse Registry of America A00000187,  with the Gypsy Vanner Horse Society GV02090F1  and the Gypsy Horse Association GHA00746!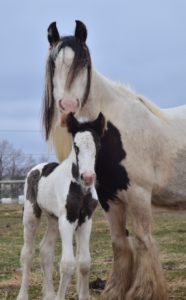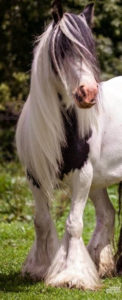 My Sweet Teagan
Sire:  North Hollow Baker (Sire: Foundation & Dam: Candy)
Dam: North Hollow Heidi (Sire: Sids Good Stallion & Dam: Foundation)
Genetic Tests
Tobiano: T/n
Agouti: a/a
Black/Red Factor: E/e
Cream: n/n
Sabino: n/n
Frame Overo: n/n
PSSM:  n/n
Teagan's 2013 foal WBF Sir Royal's Sweet Cedric has delighted us tremendously by winning first in his class at the 2014 Gypsy World Show and in 2016 he became a National Champion!
---
GLG Magic Crystal Ball  –  GV010000F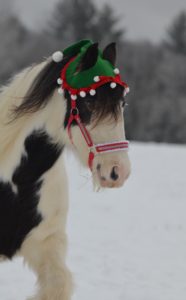 Crystal is a piebald Gypsy mare with a "uncanny" resemblance to our Teagan.  She is an amazing mare that has produced a couple fillies who have gone on to show ring and are winning championships.  Her first filly with us, Ginger, has won ribbons at multiple Feathered Horse Classics and moved on to become a remarkable ambassador of the Gypsy Vanner breed by now working with handicap children.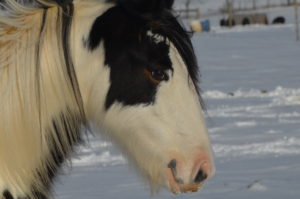 Crystal is full of feather, has a very nice conformation, and is completely peaceful! We are very fortunate to have been able to add her to our beautiful Gypys mares.
Crystal is foundation bred and was imported from Europe.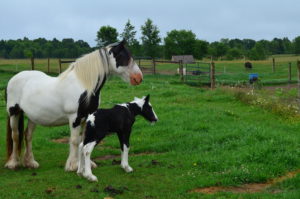 Genetic Tests
Black/Red Factor:  E/e
Tobiano:  T/n
PSSM:  negative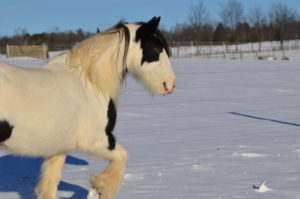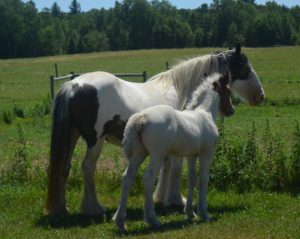 ---
The Irish Black Faced Mare  –  GV00810F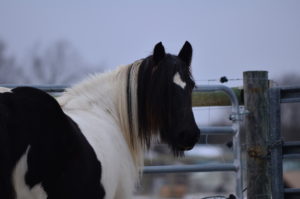 Irish joined our family very early in 2013 and has become more beautiful every day!
She is registered with the GVHS and the GHS.
Irish does ride and drive, but her main joy in life is raising her foals.  She has helped raise all of the foals that have been born here and I think she loves every minute of it.
She has a beautiful conformation and as with the rest of our beautiful horses, she has been chosen because she is a great representation of the Gypsy Horse.  We are very excited to see what fantastic children her and our boys can produce!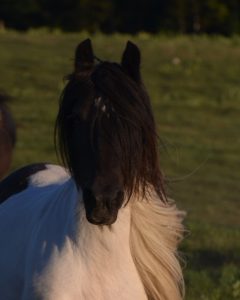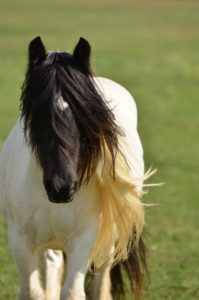 ---
WR Esmeralda's Clover – GV01271F1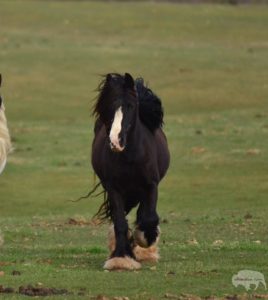 Clover joined our family in January, 2014.  She is a joy to be around and has the Perfect personality!  Clover has become an integral part of our family and we don't know what we would have done without her!  She enjoys riding with both myself as well as our children and  she produces beautiful babies with her personality and temperament.
Clover is the daughter of The Gypsy King and has carried on his amazing conformation.
Clover is double registered with both the GVHS and the GHA.
WR Esmeralda's Clover
Sire:  The Gypsy King
Dam:  Esmeralda
Genetic Tests:
Black/Red Factor – E/e
Agouti – a/a
Tobiano – tt
PSSM – Negative